Chaya Mughal to retire after first T20I against Namibia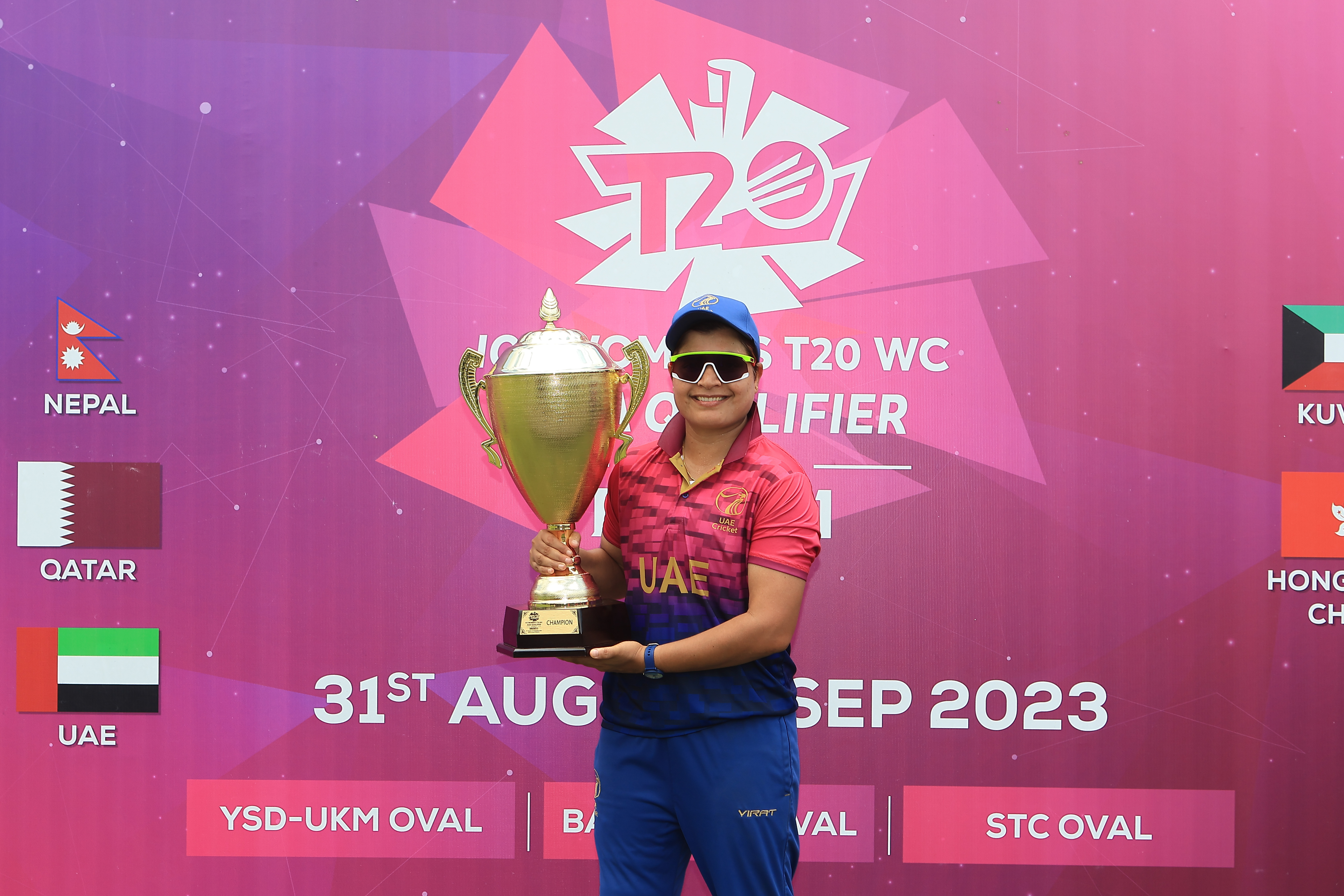 Publish at: September 23 2023
Dubai, 23 September 2023: UAE Women's captain Chaya Mughal will retire from international cricket next week. The all-rounder will lead the team for the last time in the opening match of the six-match T20I series against Namibia at the Dubai International Stadium on Tuesday, 26 September.
The 37-year-old Chaya will now be fully focussed on her role as Women's Cricket Officer with the Emirates Cricket Board.
As a star cricketer, Chaya remains one of the most renowned women's players in UAE. The right-hand batter and seam bowler will make her 66th and last appearance in T20Is next Tuesday. Chaya began her career with UAE in 2018, she led the team a record 49 times – most for a UAE Women's captain. The game on Tuesday will be her 50th as captain.
Chaya scored 602 runs and captured 45 wickets in her glittering career. Early this month, Chaya led UAE to victory in the ICC Women's T20 World Cup Asia Qualifier in Malaysia.
General Secretary Emirates Cricket Board Mubashshir Usmani: "On behalf of Emirates Cricket Board, I want to congratulate Chaya on her outstanding career. Chaya is undoubtedly one of the most renowned UAE cricketers and her contributions to the game both as a player and leader would be cherished for a long time.
"Chaya has inspired a new generation of UAE women cricketers. We have full trust and confidence in her abilities and wish her the very best as we continue to develop and grow women's cricket across UAE, an area where her expertise is hugely beneficial to us."
Chaya Mughal: "I have completed an incredible cricketing journey with the UAE team. We have come a long way since I began my career with UAE in 2018. The team has grown in stature tremendously and our success is exemplified in our dominant performances in the ICC Women's T20 World Cup Asia Qualifier in Malaysia.
"I would like to express my gratitude to all my current and former teammates, coaches, and support staff as well as Emirates Cricket Board for their trust and backing throughout my career. I extend my best wishes to Esha and the team for their upcoming series against Namibia. Moving forward, my foremost goal now is to identify and nurture the next generation of women stars from across UAE in my role as Women's Development Officer in Emirates Cricket Board."
Meanwhile seasoned all-rounder Esha Oza who was named the player of the tournament in the recently concluded ICC Women's T20 World Cup Asia Qualifier will take over as captain of UAE Women's team from the second T20I against Namibia.
- ENDS -