UAE Cricket received in Geelong by UAE Ambassador, His Excellency Abdulla Al Subousi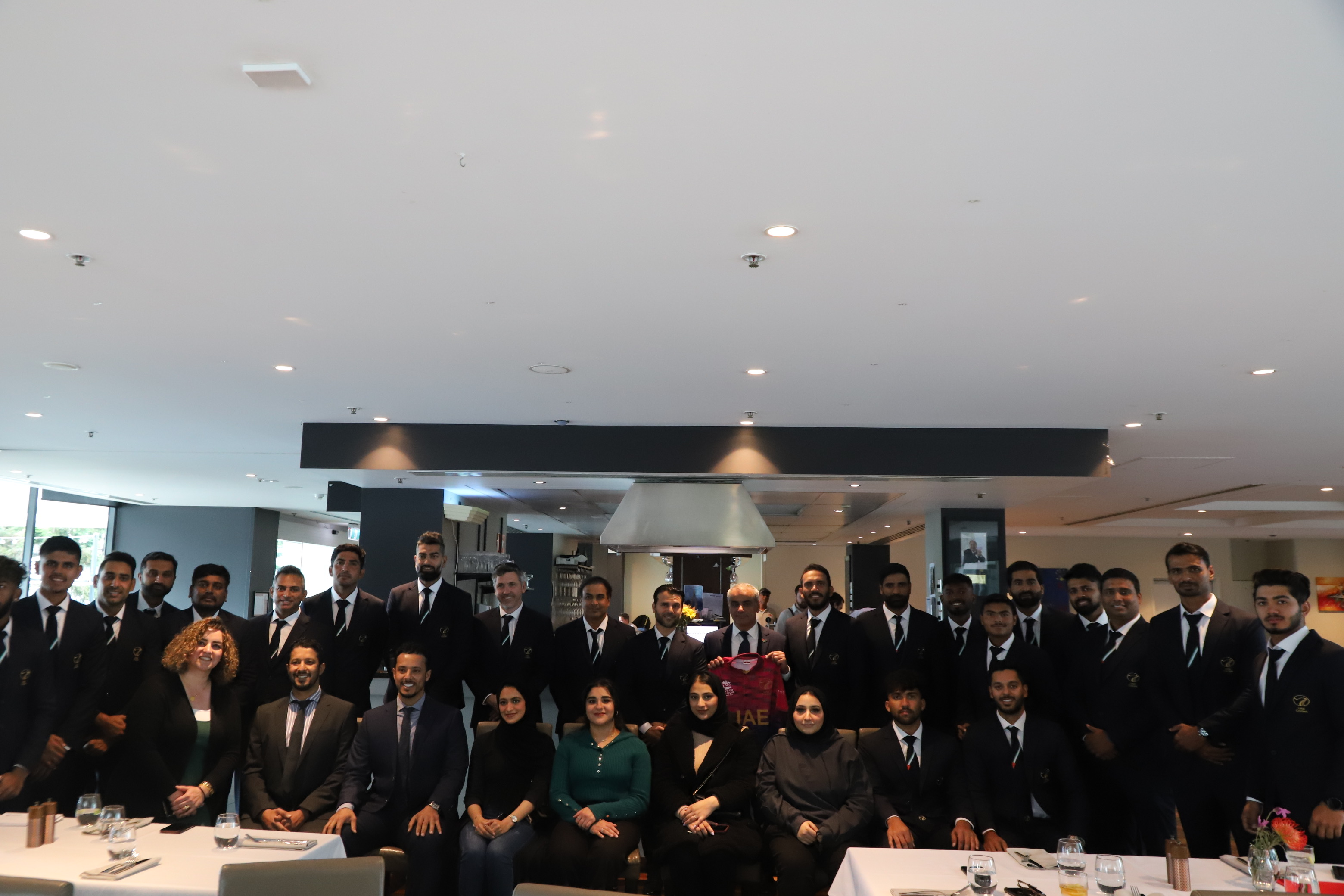 Publish at: October 21 2022
The UAE Men's Cricket team, support staff and traveling members of the Board were received by, and welcomed to Geelong (Victoria, Australia) by UAE Ambassador to Australia, His Excellency Abdulla Al Subousi on Sunday (October 16th 2022).
Zayed Abbas, Emirates Cricket Board Member said; "We are extremely grateful to, and honoured by His Excellency for dedicating his time to travel (from the capital, Canberra) to Geelong and host our team at this reception ahead of our opening match."

As a token of appreciation for his generous attention and hospitality, Abbas and UAE Captain, CP Rizwaan, presented His Excellency with a signed UAE jersey.
"It's wonderful to see the UAE Cricket team participate in the ICC Men's T20 World Cup competition. I want to thank Zayed Abbas, Emirates Cricket Board Member who is also head of the UAE squad to Australia, Coach Robin Singh and the players including Captain CP Rizwaan, Aayan Khan - who is the youngest player to play the competition. Cricket is dear to the hearts of Australians and it was heartwarming to see the enthusiastic support our team got from so many people who have not had the chance to visit my country, especially Isheanesu Tobayiwa who even wrote a song to show his support as it was a pleasure to get to know him and his lovely mother, Bridgette Burns, and grandparents."
"I truly enjoyed watching the games in the beautiful city of Geelong and meeting the Mayor Peter Murrihy, as well as Gerard Griffin CEO of the Kardinia Park Stadium. Special thanks on the wonderful organisation to Michelle Enright, the CEO of the ICC Men's T20 World Cup 2022 Local Organising Committee, and Luke Humphries."
After the reception, His Excellency joined UAE Cricket's traveling dignitaries to watch the team's opening match, which was played at Geelong's Kardinia Park (Victoria).
- Ends -
Photo; Official reception with His Excellency (10th from Right – holding UAE colours)